The statement came as the Israeli-imposed deadline for some 1.1 million civilians to leave the northern part of the enclave, ahead of what is expected to be a major advance into Gaza by Israeli ground forces, expired.
"UNRWA shelters in Gaza and northern Gaza are no longer safe. This is unprecedented," said the statement.
The agency reminded that according to the rules of warfare, civilians, hospitals, schools, clinics and United Nations premises cannot be a target.
"UNRWA is sparing no efforts to advocate with parties to the conflicts to meet their obligations under international law to protect civilians, including those seeking refuge in UNRWA shelters," the agency emphasized.
UNRWA pointed out that many of the vulnerable, particularly pregnant women, children, the elderly and persons with disabilities simply will be unable to flee south.
"They have no choice and must be protected at all times."
Taps run dry
UNRWA chief Philippe Lazzarini said that with water supplies running dry due to Israel cutting off all utilities to Gaza, "it has become a matter of life and death".
"It is a must. Fuel needs to be delivered now into Gaza to make water available for two million people", he said.
More than 1,300 people were killed in Israel after Hamas fighters raided settlements close to Gaza last Saturday. In response, more than 2,200 have been killed during Israel's aerial offensive on Gaza, according to Palestinian authorities.
On Friday, UN Secretary-General António Guterres said it would be "impossible" for civilians in Gaza to comply with the evacuation order without devastating humanitarian consequences.
The UN chief called on the world to unite in support of the fundamental principle of protecting civilians, and "finding a lasting solution to this unending cycle of death and destruction."
'Agonising choice' for hospital workers amid Israeli order to evacuate
The World Health Organization (WHO) on Saturday strongly condemned Israel's repeated order for 22 hospitals in northern Gaza to be evacuated, describing it as a "death sentence" for the sick and injured.
With around 2,000 desperately ill patients inside their wards, WHO said the forced evacuation of both patients and health workers "will further worsen the current humanitarian and public health catastrophe."
The statement said the lives of those in intensive care or who rely on life support – including newborns in incubators and those needing hemodialysis – now hang in the balance.
"Health facilities in northern Gaza continue to receive an influx of injured patients and are struggling to operate beyond maximum capacity. Some patients are being treated in corridors and outdoors in surrounding streets due to a lack of hospital beds", said WHO.
'Tantamount to a death sentence'
"Forcing more than 2000 patients to relocate to southern Gaza, where health facilities are already running at maximum capacity and unable to absorb a dramatic rise in the number patients, could be tantamount to a death sentence."
Those running the hospitals now face an agonizing choice, the agency said: either abandon the critically ill, put their own lives at risk by staying amid the bombing, or endanger patients' lives "while remaining on site to treat patients, or endanger their patients' lives "while attempting to transport them to facilities that have no capacity to receive them."
The agency said that overwhelmingly, staff have chosen to stay behind rather than risk lives by moving those who are critically ill.
WHO airlifts vital health supplies
A plane carrying life-saving health supplies from the WHO logistics hub in Dubai landed in Egypt on Saturday to aid civilians in Gaza – as soon as access across the border into the enclave can be established.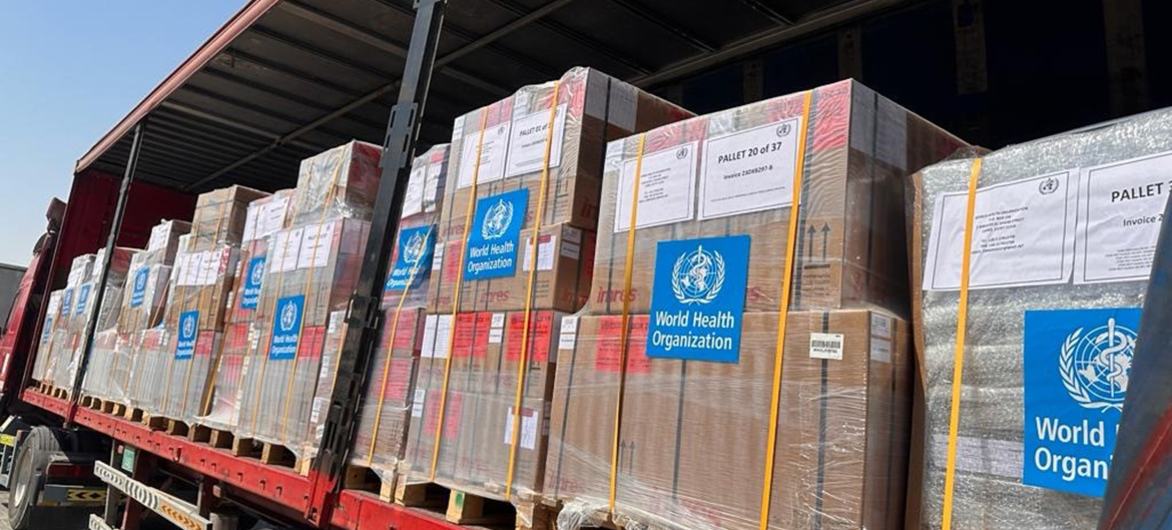 The shipment includes trauma medicines, healthcare essentials, and equipment sufficient to treat around 1,200 who have suffered injuries during the bombing raids and around 1,500 chronically ill patients.
The cargo also includes basic health supplies to meet the needs of 300,000 others, including pregnant women.
With hospitals in Gaza either completely out of action, or simply overwhelmed, the supplies will help save the lives of the wounded wherever they can find shelter, WHO said.
Access essential
WHO said it was critical for the Rafah crossing on the Egyptian border to be reopened. "While the Egyptian side of the crossing is accessible, the Israeli side remains closed", said the statement.
"Every hour these supplies remain on the Egyptian side of the border, more girls and boys, women, and men, especially those vulnerable or disabled, will die while supplies that can save them are less than 20 kilometres (12 miles) away."
WHO said it would be working with the Egyptian and Palestinian Red Crescent Societies to ship the supplies across the border into Gaza, as soon as practicable.
WHO Director-General Tedros Adhanom Ghebreyesus met Egyptian President Abdel Fattah El-Sisi on Monday who endorsed the request to facilitate medical aid across the border into Gaza.
'I fear the worst is yet to come': UN relief chief
Following a week of "utter anguish and devastation" for civilians in both Israel and the Occupied Palestinian Territory, the UN relief chief on Saturday said he fears "the worst is yet to come."
"In Israel, families are reeling from the horror of last Saturday's attack", said Humanitarian Affairs chief Martin Griffiths. "More than a thousand people have been killed and many more have been injured. Over 100 people are held captive.
"In Gaza, families have been bombed while inching their way south along congested, damaged roads, following an evacuation order that left hundreds of thousands of people scrambling for safety but with nowhere to go."
The past week has been a test for humanity, and humanity is failing – Martin Griffiths
He warned that the humanitarian situation in the Gaza Strip, "already critical, is fast becoming untenable."
The OCHA chief warned that violence is on the rise in the occupied West Bank, with a surge in civilian deaths and injuries leaving families "facing ever greater movement restrictions."
"And in Lebanon, the risk of the conflict spilling into the country is a major concern."
He called for all civilians and civilian infrastructure, including humanitarian workers, to be protected by all combatants.
Mr. Griffiths echoed the UN chief's appeal saying all countries with influence must exert it to ensure respect for the rules of war and to avoid any further escalation and spillover.
"The past week has been a test for humanity, and humanity is failing."
UN independent expert warns of 'mass ethnic cleansing'
An independent UN-appointed human rights expert warned on Saturday that Gaza's civilian population was now in grave danger of "mass ethnic cleansing" on the international community to urgently mediate a ceasefire.
"The situation in the occupied Palestinian territory and Israel has reached fever pitch," said Francesca Albanese, UN Special Rapporteur on the situation of human rights in the Palestinian Territory occupied since 1967.
She called on the UN and Member States to intensify efforts to mediate an immediate ceasefire between the parties, before "a point of no return" is reached.
The UN Human Rights Council-appointed expert reminded the international community of its responsibility to prevent and protect populations from atrocity crimes.
'Both deserve to live in peace'
"Time is of the essence. Palestinians and Israelis both deserve to live in peace, equality of rights, dignity and freedom," Ms. Albanese said. "Any continued military operations by Israel have gone well beyond the limits of international law. The international community must stop these egregious violations of international law now, before tragic history is repeated."
Special Rapporteurs and other independent experts work on a voluntary basis, they are not UN staff and do not receive a salary for their work.
Lebanon frontier: Peacekeepers warn of further 'tragedies' following journalist's death
The UN peacekeeping force in Lebanon on Saturday extended its heartfelt condolences to the family of a Reuter's news agency video journalist who was killed in the south of the country, covering the exchange of fire between Israeli forces and Hezbollah militia.
In a statement, UNIFIL, the UN Interim Force in Lebanon, confirmed there had been firing across the Blue Line, the unofficial frontier between the two countries, with Israeli forces striking a position on Friday close to the village of Alma As Shab.
According to Reuters, Issam Al Abdullah, a Lebanese videographer, was killed during the exchange of fire and six other journalists were injured.
UNIFIL wished the injured media workers a swift recovery and stressed that it could not say exactly how the group had been hit.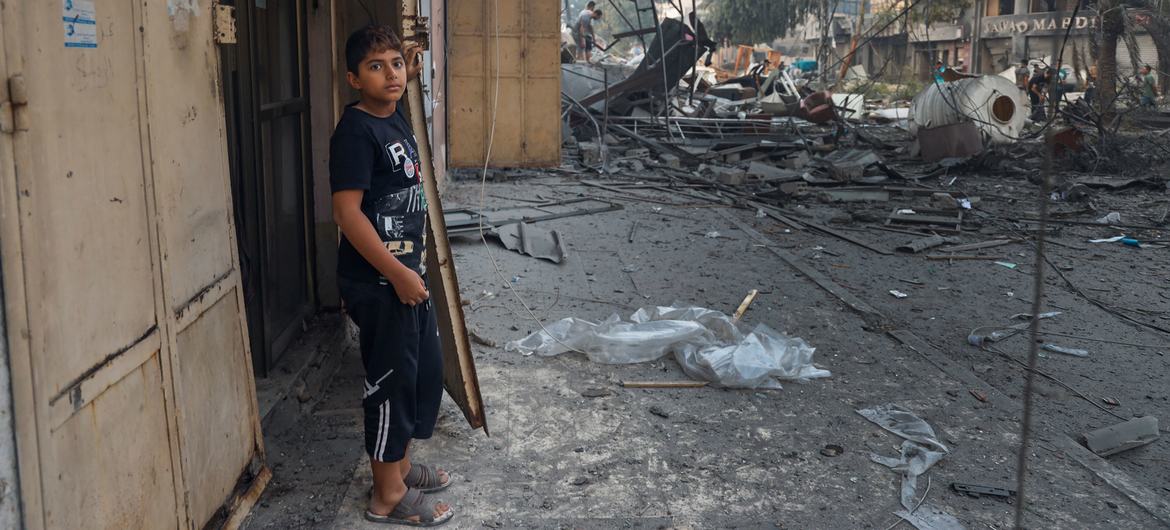 Stop the escalation
"If the situation continues to escalate, we will most likely see more such tragedies. Any civilian loss of life is a tragedy and should be prevented at all times.
"This is why we urge everyone to cease fire and allow us, as peacekeepers, to help find solutions", the statement added. "No one wants to see more people hurt or killed."
According to news reports, Israeli authorities have pledged to investigate the incident.